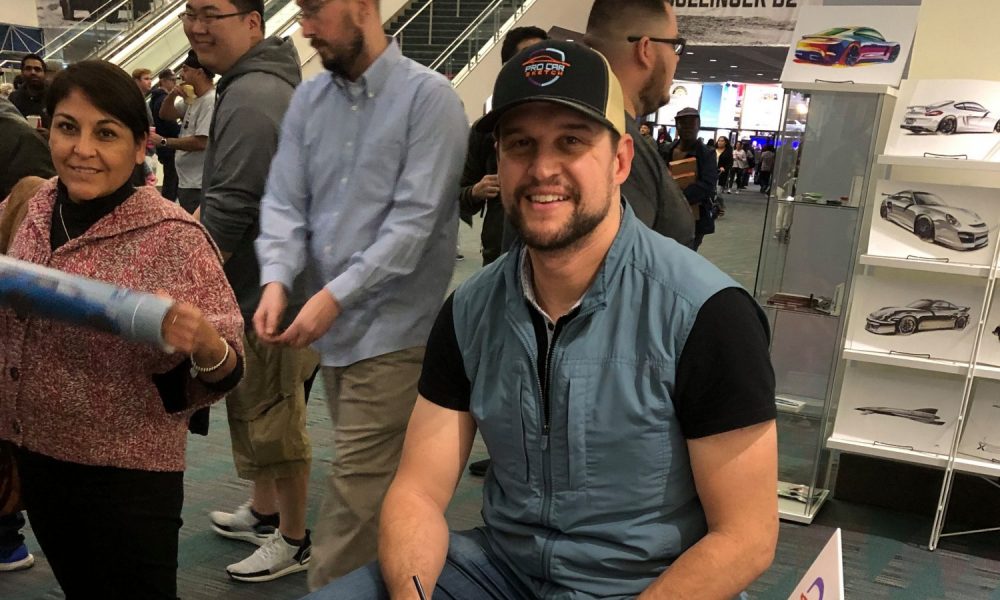 Today we'd like to introduce you to Rodrigo Camus.
Rodrigo, can you briefly walk us through your story – how you started and how you got to where you are today.
My dad took me to see race cars when I was ten years old. I saw cars that looked nothing like the ones on the street. So, I wanted to do cars that looked better than the ones we drove every day. I went to Art Center College of Design. Art Center is the top school for car designers. After five very intense years, I graduated. I got a job at Fiat Turin (Torino), Italy as a car designer. Funny story, they asked if I spoke Italian, I didn't but I spoke Spanish, so I took my chances and said yes.
I always had a low blood sugar condition, it started getting worse as I got older. So, I had to adapt and learn to live with it. I couldn't do a 9 to 5 job without having my body crashing hard on me. So, I decided to open my own design studio. Most of the major companies have their own design studios. So, I targeted small business clients. I loved it and designed all kinds of things. I did medical equipment, toys, electric cars, topper wears, tennis shoes, fashion, electronics, interior design and a few other things.
In 2010, my brother got diagnosed with cancer for the second time. So, I moved with him to Houston so he could get treated. It was a rough year but he recovered and is doing great. During that time, I did freelance design jobs. Keeping it simple without growing it as a full design studio. It was great but inconstant. With small businesses, even if you deliver the greatest design, usually they can only afford to develop and produce one or two products. So, I had happy clients but not returning clients. During one of my slow business periods, I set up a table at the Houston Auto Show in 2013. I started sketching cars for people at the show. It was very well received by the clients. So, I started setting up at many local shows. This has snowballed into a great business. Now, I set up at all the major auto shows. NY, LA, Chicago, Dallas and Houston.
I have done thousands of commissioned work sketches. I also started selling reproductions of my original artwork, reproductions sell for a lower price but I had already done the work, it is a great supplement to my business. Now, I can say I draw cars for a living. Like they say "do what you love and you won't have to work another day in your life." I also teach car design fro free on YouTube. It's my way of giving back to the community. Just search Rod Camus on YouTube. So now, I have a steady business that I love.
Great, so let's dig a little deeper into the story – has it been an easy path overall and if not, what were the challenges you've had to overcome?
Lots of struggles. From moving to a country where you don't speak the language (twice- USA and Italy). Dealing with health problems that made me hit the reset button and start from scratch again. Design projects that roll to a halt. Life is full of struggles. But we all get them. It's just how well we recover and keep going. Being a car designer, it's like being a rock star. There are millions of musicians but very few become rock stars. Millions of people dream of becoming a car designer. Many even went through college to become one. The problem is that there are very few spots available. I was lucky to get a car design job. Most of my friends never got one. I say this because I feel like I had to conquer the world. Once I did it, I had to give it away because of my health. It was heartbreaking.
I disappeared from the world map. Doing my sketches, meeting people and social media have put me on the map again. I do sketches for individuals who love their cars, that brought dealerships like Rolls Royce and Cadillac to notice me and order custom sketches. Then, that caught the car manufacturer's attention and I have done sketches directly for Lexus and Toyota as a company, not a small dealership. So, I feel like I reconquered the world taking a completely different route. I play a lot of soccer. Games are 90 minutes and usually, the score is no more than three goals in total. That means that 90% or more of the plays fail. People get upset when we miss the goal. Life is the same. We are not King Midas. Not everything we touch turns in to gold. I can tell you I have failed a lot more than I have succeeded.
Alright – so let's talk business. Tell us about Pro Car Sketch – what should we know?
I went from designer to Artist. Basically, I do car portraits. My success, I believe comes from my car design background. A lot of people do drawings of cars, I notice they copy it exactly as they see it. Cars are like a mirror and reflect everything around them. To get a great shot of a car you need a great environment around it. I know how to control that without looking at it. So, when people send me a photo of their car in their garage. I give them back a sketch of a car that looks like it was set up on a photo studio with a perfectly controlled environment.
I also truly enjoy what I do, so you see that on the end result. I have done sketches for 20 years now. Still, I feel like my last one is better than my previous one.
Is there a characteristic or quality that you feel is essential to success?
I have chosen the quality of life above everything else. Health has taught me a few lessons! I will never become a Millionaire doing what I do. But I live better than many successful people I know. I draw cars, spend time with my family. I'm very involved with my daughters (5-7 years old). I volunteer to do many things with their school. I walk my dogs almost every day.
Everything I have accomplished wouldn't be possible without the love and support from my family and friends. Thanks to my wife for supporting me on all my crazy adventures. Ushu, you make this possible. To my girls Sofia and Olivia, for sitting down next to me while I sketch for hours. And all my friends and family for always supporting me and keep giving me strength to keep pushing.